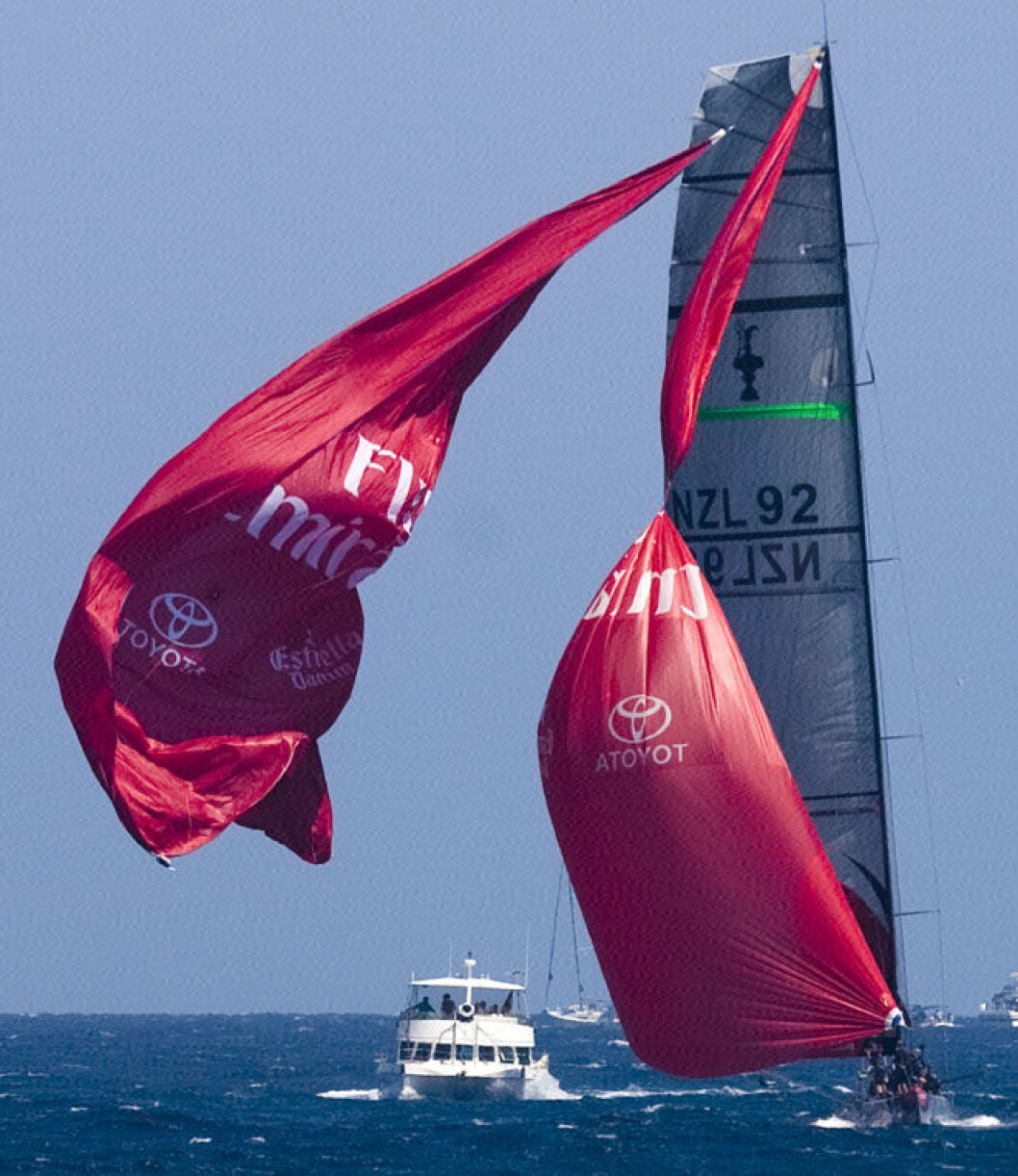 Spjæret spinnaker ødela for Team New Zealand
Igjen tok Emirates Team New Zealand grep fra start, men en spjæret spinnaker og opprydningarbeide under pari fra mannskapet avgjorde seilasen i favør av Alinghi
Dean Barker tok kommandoen i prestart manøvrene og tilskuerbåtene reddet Ed Baird fra total ydmykelse. De to kom temmelig likt over startlinjen og seile parallelt ut på styrbordsiden, slik at TNZ fikk kjørt konkurrenten over styrbords layline. Ved første merke var ledesen 12 sekunder, men så intraff det fatale uhellet som skulle frata TNZ muligheten til å ta en 3-2 ledelse i America´s Cup.
Alinghi kom seg forbid og passet dertter ledelsen til mål. De to båtene viste overraskende helt lik båtfart i de friskere forholdene i dagens seilas og det er nå hely åpent hvordan regattaen vil utvikle seg videre. Mye tyder på at det blir den mentale styrken som til slutt vil avgjøre.
Les også kommentarene til Gary Jobson:
What a heartbreak! Just as the critical jibe on the
second leg was about to take place a disaster struck Emirates
Team New Zealand. It was painful to watch as the Kiwi
crew scrambled to recover from a blown spinnaker change.
Switzerland's Alinghi was close behind and setting up to
blanket New Zealand's wind after the jibe. Could NZ break
through with clear air after the turn? It was blowing
20mph, the seas were confused, and the sailors were tense
anticipating the sequence. There was a tear on the luff
of the spinnaker. And the sail cloth looked too light.
NZ knew they were in trouble, hence the need for sail change.
And then the spinnaker blew out! To make it worse the
crew did a terrible job cleaning up the mess. It was an
awful reminder of the equipment problems that plagued NZ
in 2003. Alinghi's tactician made a great call to sail
away from NZ. Alinghi took the lead, easily won the race
and now lead the series 3-2 But New Zealand is very
much alive in this regatta. Winning is a question of mental
toughness.
There is no doubt that the Kiwis have an uphill battle
ahead. They must win 3 of the next 4 races against the
well prepared Alinghi. This is where leadership comes
into play. Grant Dalton is the man in charge, and must
get his sailors back on track. The first thing on his
agenda is to let the foredeck gang discuss what went wrong.
They might go sailing a little early before Race 6 to practice
a couple of spinnaker changes to rebuild confidence. Once
that task is put in the review mirror, NZ needs to focus
on their strengths. And they have many.
For the first time we witnessed races in the upper wind
ranges, and guess what, the speeds of the two boats appear
to be even. NZ helmsman, Dean Barker, gave Alinghi's helmsman,
Ed Baird, a real clinic during the start today. Once
again Alinghi entered the starting box late. Baird was
on the run and was forced to use spectator boats as picks.
Barker was in control and easily won the start. Alinghi
would do well to abandon their passive, stay out of trouble
strategy, and go at NZ with a vengeance.
The pressure is on NZ tactician Terry Hutchinson.
He must sail the races of this life. At 39, he has the
ability, experience, and drive to get the job done. Hutchinson
knows he can defeat Butterworth, 47, in smaller boats like
Farr 40s and J 24s. Even though the stakes are higher now,
it is still a sailboat race. Hutchinson should treat these
like any other races. The heat is on Butterworth too.
He has an owner who does not want to loose control of this
event. After all the America's Cup is now the Billion
Dollar Cup.
In 1983 Australia II was down 1-3 to Liberty and came
back to win three straight. At this point the greater
pressure is on the defender. One good start, a clean race
and NZ can regain the momentum. For Alinghi, the same
applies. Tomorrow is the crucial test. Wouldn't you want
to be on board one of these boats this weekend? Going
into the final trials aboard Courageous 30 years ago our
skipper Ted Turner said the most inspiring words, "I am
going to enjoy the final trials, win, loose, or draw because
I think it will improve our chances of winning." All these
years later Ted's words remain good advice.