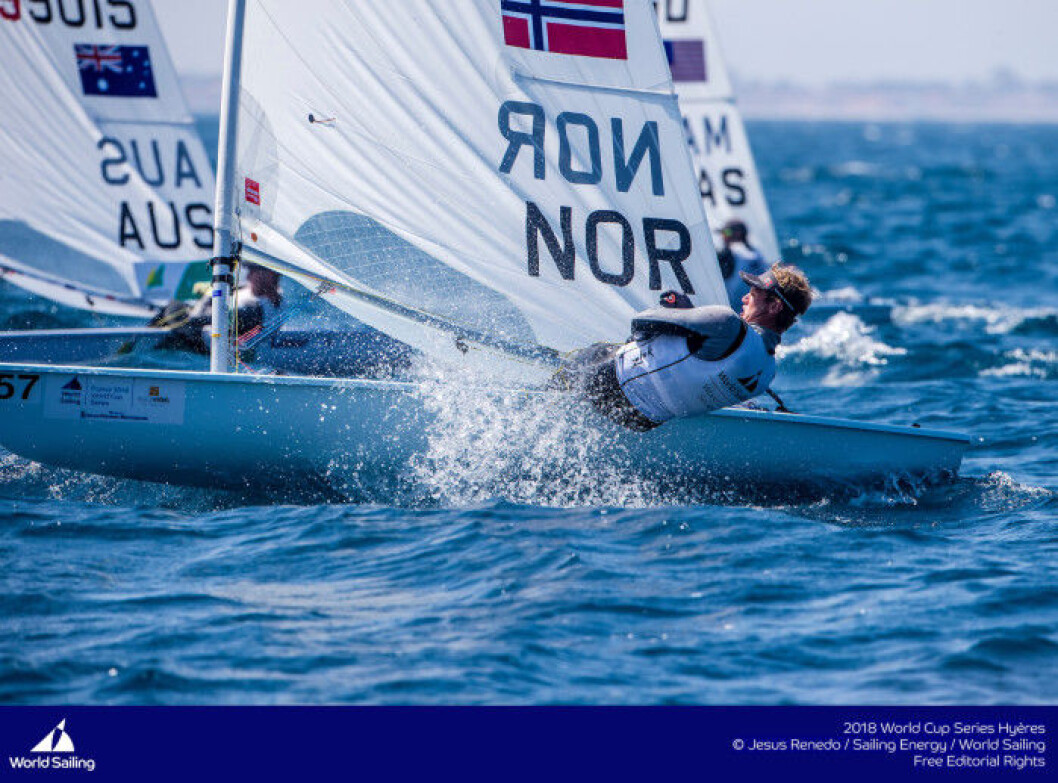 Overlegen
Etter fredagens seilaser har Hermann Tomasgaard økt forspranget til mer enn 40 poeng. Les også intervjuet med World Sailing.
Hermann Tomasgaard er uslåelig i MIami. Med 3. og 2. plass i et felt med 51 båter har han økt forspranget til Sam Meech, NZL med 44 poeng etter at New Zealenderen ikke greide topp ti plassering i noen av dagens seilaser. OL vinneren Tom Burton er hele 62 poeng bak Tomasgaard. Snakk om å være overlegen. Laserne seiler to seilaser lørdag før medaljefinalen søndag, som du kan følge direkte her.
Like bra går det ikke i de andre klassene og bare Anders Pedersen ligger an til medaljefinale. Med 13. og 2. plass fredag er han nå 8 sammenlagt. Her gjenstår tre seilaser før medaljefinalen søndag.
Line Flem Høst er 30 i Laser Radial, Caroline Sofia Rosmo er 33, mens 49erFX jentene Helene Næss og Marie Rønningen er 19 sammenlagt. I RS:X er Sebastian Wang-Hansen tilbake som beste nordmann med 29. plass, mens Endre Funneamrk nå er 33 sammenlagt.
World Sailing har intervjuet Hermann Tomasgaard etter fredagens seilaser og vi gjengir dette i sin helhet:
A key component of Laser sailor Hermann Tomasgaard's (NOR) preparation for the 2019 Hempel World Cup Series Miami involved a week at the Laser Training Center in Cabarete, Dominican Republic. Aside from the obvious—tropical mid-winter weather—Tomasgaard went there for the consistently strong winds.

"We had a good group with the British and the Swedish and a lot of hiking, a lot of strong winds," he said. "That's maybe the problem you can have in Europe this time of year, you can have a lot of light winds, You get some strong-wind days, but never really for one and a half weeks."

This regatta, however, has been anything but windy, with just one race that tested the sailors' abdominal muscles. Nonetheless, Tomasgaard clearly found something in the azure Caribbean waters because he has been phenomenally fast and unbelievably consistent in some of the most mentally demanding conditions in a fleet where top-half finishes in the gold fleet are often considered keepers.

With two full-fleet races remaining and then Sunday's Medal Race, Tomasgaard has established a 44-point lead over second place. His worst finish is a sixth. One decent race tomorrow and he will have clinched the gold with two races to spare, a virtually unheard-of feat in the modern Medal-Race format.

"It's been very good," he said. "Sailing is a little up and down all the time, and this week I've had quite a lot of up. I'm just enjoying it right now. I've had moments [like this before], but maybe not for as long as now. Now it's been every race. It's been good."

The conditions today were similar to the previous three days, light and shifty.

"It was difficult, very, very shifty," he said. "Big shifts from both sides. Quite light and big pressure differences as well with the shifts. [Success required managing a] little bit of both. We had a left pressure that was really stationary, that you really had to go into. It was in all the upwinds, almost, that you gained a little bit on that left shift, but it was difficult to know how far into it you had to go."

He also credited a lot of his success to his ability to get off the starting line cleanly.

"I've had good starts, really good starts and I've tried to keep an open mind," he said. "I tried to start where I think it's going to be the best and keep an open mind and change my plan if I see something new coming."

Should his final few races follow this pattern, Tomasgaard will have put together one of the more remarkable scorelines in recent memory. With 18 months until the Tokyo 2020 Olympics, is he peaking too early? Tomasgaard doesn't see it that way.

"I've been climbing the last few years in the results, and it's nice to see that the winter trainings are working well," he said. "So I kind of take that, like 'OK, we're on the right track.' Still, it's early in the season, and a lot can change from Miami."

Sam Meech (NZL) is second in the class with 65 points while Rio 2016 gold medalist Tom Burton (AUS) is third and Charlie Buckingham (USA) is fourth.