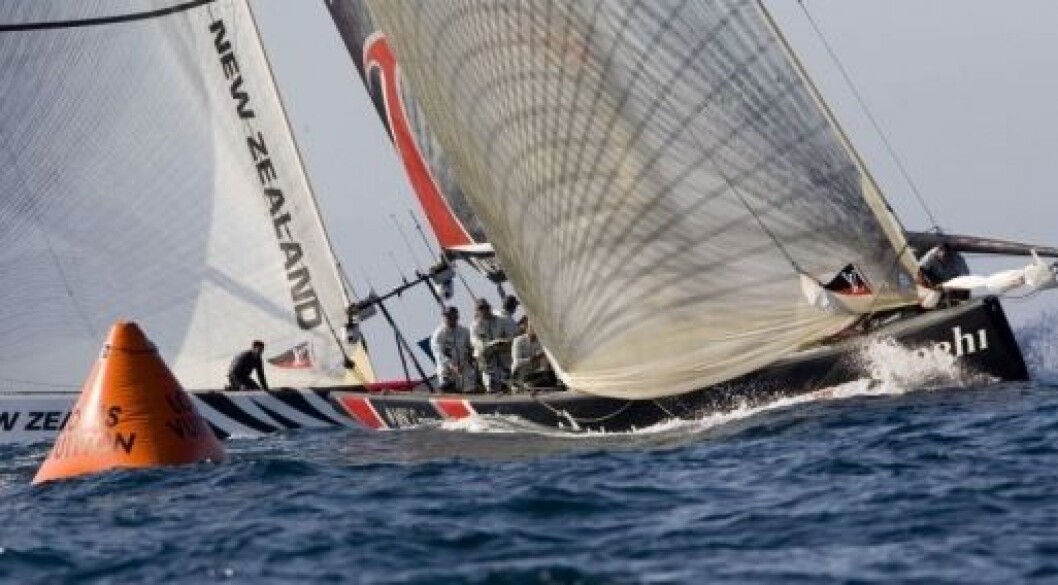 Neglebiter uten like i Valencia!
I en seilas der ledelsen skiftet flere ganger og lederen unnlot å dekke konkurrenten i kritiske øyeblikk vant til slutt Team New Zealand med 25 meter.
Dagens høydramatiske America´s Cup seilas etterlater mange spørsmål om de taktiske disposisjoner hos Alinghi som først, etter å ha vunnet starten og tatt en tidlig ledelse, lot TNZ gå alene på høyresiden der de fikk en gunstig vindkantring og overtok teten. Alinghi havnet i et vindhull og TNZ hadde på det meste en ledelse på mer enn 300 meter. Ved runding var TNZ hele 1.23 foran.
Alinghi kom stadig innpå på lensen med friskere vind aktenfra og ved runding var ledelsen redusert til 1.02. TNZ hadde store probemer i rundingen der fordekksmannen var nær ved å falle i vannet og med nød og neppe klarte å dra seg omord igjen. Spinnakeren ble hengende fast i hjørnet på genuaen og hemmet TNZ tydelig. Nå var det Alinghi som var heldig med vindkantringene og da båtene nærmet seg merket var det Alinghi som hadde initiativet. En stund så det ut som om den sveitiske båten skulle lykkes i å kjøre konkurrenten ut over styrbord layline, men TNZ skle frem og tvang Alinghi til å slå over til venstre. Alinghi slo nå fra babord layline og greide å krysse foran TNZ. Ved merket rundet Alinghi 15 sekunder foran.
Nå fulgte en uhyre dramatiske lens der sparasjonen mellom båtene på det meste var mer enn en kilometer. Hvorfor Alinghi unnlot å dekke skal det bli spennende å få en forklaring på, og utfallet av seilasen ble nå helt avhengig av hvem som hadde mest trykk på sin banehalvdel. Mot slutten skiftet ledelsen flere ganger og først på de siste metrene mot mål ble det klart at TNZ ville vinne seilasen. Kun 25 meter skilte i mål. 2-1 til TNZ.
Igjen en seilas der båtfarten spilte en mindre rolle. Vinneren var den som som best ut av vindkantringene, og som fikk kapitalisere på den ettersom konkurrenten fravek alt som står i bøkene om matchseiling og å holde seg mellom konkurrenten og det neste merket (eller mål).
For annen gang har Alinghis taktiker Brad Butterworth misset og magien som var knyttet til hans America´s Cup prestasjoner er i ferd med å forsvinne.
Den 32´America´s Cup er blitt adskillig mer spennende enn antatt på forhånd. Drømmesenariet blir nå om det går til 4-4 og at den niende seilasen vil avgjøre det hele.
Les Gary Jobson's America's Cup Report--Race 3
This America's Cup just keeps getting better, and more
interesting. Today's contest was a race of emotions for
the 34 sailors on the two yachts. The lead changes were
frequent and dramatic. This was one of the best races
in the 156 year history of the America's Cup. And we are
a long, long way from deciding the winner.
Both teams were at times brilliant, and at other times
sloppy. In the 6.5 to 9.2 knot wind range, there was little
speed difference, upwind or downwind, between these boats.
The waves out on the race course were huge, confused and
nasty. It was a tough day for the helmsman. At one point
on the first windward leg Alinghi's helmsman Ed Baird looked
over his shoulder at Emirates Team New Zealand surging
into a big lead and uttered (expletive deleted) and thrust
his head down. He looked mighty frustrated. Not a good
thing so early in a race that promised a lot of wind changes.
Alinghi's superstar tactician, Brad Butterworth, calmed
Baird down and the team went to work.
At the first mark NZ was comfortably in the lead. Tactician
Terry Hutchinson had the difficult problem of deciding
when to cover and when to play the shifts. It was not
an easy day to figure it out. Alinghi slowly chipped away
at NZ's lead. Baird regained his composure. In contrast,
over on NZ two grinders were seen laughing. This is always
a bad omen in any sport. Things happened when you get
giddy with your good fortune.
Approaching the leeward gate, the pole suddenly dropped
and bowman Jero Lomas briefly fell into the water. Suddenly
the Kiwi crew looked all out of sync. The rounding was
wide, the spinnaker got stuck in the lead changer, several
crew appeared out of position and Alinghi was coming on
fast. Butterworth and company saw the mess and were ready
to pounce.
As luck would have it the wind shifted to the left and
just like that Alinghi was back in the race. On board
the Silversea Whisper 350 guests were riveted by the action.
America's Cup Hall of Fame tactician Steve Van Dyke, author
John Rousmaniere and I watched in amazement. You could
here a pin drop. But when one boat established a lead
the partisan crowd would cheer. (for the record the Kiwis
are louder on this boat than the Swiss).
One mile from the windward mark Alinghi (on port) started
to dip NZ on (starboard). Hutchinson called for a tack
to block Alinghi. But the tack was made too early. Baird
on Alinghi came right back up on the wind. It was a reversal
of the key moment we saw in race two.
Butterworth wanted the left side of the course for the
final mile and used stronger winds to round ahead by three
lengths. Now there was only 3.3 miles to go. How could
NZ possibly catch up? The giddy grinders no longer were
smiling.
At first NZ sailed low to try to get SUI to cover. But
the Kiwis started losing and the jibed. Alinghi stretched
and then threw in their covering jibe. Hutchinson called
for another jibe and NZ crossed behind toward the lay line.
Two miles to go and time was running out.
Alinghi kept sailing straight, obviously comfortable with
their 3 boat length lead. Steve Van Dyke, mentioned that
it looked like a replay of the fateful Race 7 in 1983 when
Dennis Conner aboard Liberty split with the Australia II.
Everyone one on Silversea Whisper was leaning over the
rail. Alinghi was sailing near our ship. I could hear
several Swiss fans yelling "Cover!" But Butterworth sailed
on. And then a miracle took place. The wind on the leeward
side of the course filled in with more pressure. NZ started
gaining. It was Butterworth's turn to decide whether to
cover or wait for a wind shift. He waited.
The shift never arrived, NZ took the lead, and won by
two boat lengths. Wow! Now what?
Racing continues tomorrow. Alinghi has to win 4 of the
next 6 races to retain the cup. This regatta is very much
up for grabs. From the way I see it the team that keeps
its cool will prevail. Right now Ernesto Bertarelli has
to be wonder if dropping Russell Coutts from Alinghi's
roster was a mistake. With two loses in a row, the powerful
Alinghi looks like they are missing the tough experience
NZ gained in the challenger trials. Tomorrow will be the
turning point. I am going to watch with great interest.